Jun 11, 2021
Increasing the re-use of plastic with chemical recycling
Targets for the re-use of plastic from the recycling of waste are increasingly ambitious: in this regard, chemical recycling is a set of technologies now being developed by researchers that enhances the value of Plasmix but also non-packaging hard plastics. Plasmix, a mix of plastic waste from packaging recycling plant selection processes, is currently mainly converted into energy or goes to landfill.

The backdrop and European directives
Directive 2008/98/EC establishes the hierarchy of waste:
1) prevention;
2) re-use;
3) recycling;
4) other recovery, e.g. energy recovery;
and 5) disposal.
Subsequent European directives on the circular economy have confirmed this hierarchical scale, pushing for the design of goods made from recyclable materials that can be repaired and re-used, while
reducing the raw materials used to a minimum
and creating circular value chains for the management of waste at the end of products' life cycles (
European Union waste management law
).
According to data reported in the 2019 Sustainability Report by COREPLA (Italy's national consortium for the collection, recycling and recovery of plastic packaging), 2,083,880 tonnes of plastic packaging covered by COREPLA were released for consumption in 2019, and 1,917,614 tonnes were recovered, equal to 92%. 43% of plastic packaging was mechanically recycled for use in new products, while 49% was sent for energy recovery.
This post-consumption portion of plastic, known as Plasmix, consists of mixed plastics and is mainly destined for cement works (75% - COREPLA data), and replacing fossil fuels, partly sent for energy recovery (25% - COREPLA data), while a residual portion is sent to landfill. In accordance with European law, this portion should be reduced to a minimum or eliminated. The selection process in plants is key to reducing this portion to a minimum, but is not sufficient, so this portion also requires valorisation.
Researchers are looking to find a way to use Plasmix either as a fuel with increasing energy efficiency or through chemical recycling, creating real new materials.
The chemical recycling of plastic
In chemical recycling processes, plastic is reduced to its original molecular forms so that it can be transformed into completely new plastic materials. The advantage of these technologies is that they can process all types of plastic waste, giving them new value and reducing the amount sent to landfill or incinerated.
The current objective of researchers in the chemicals industry is to define environmentally sustainable chemical processes that can be scaled up. The main processes being developed are:
Chemical depolymerisation. The original monomers are produced through reactions with agents;
Gasification. Process with oxygen and/or steam to produce synthesis gas;
Thermal decomposition of polymers through heating in an inert atmosphere;
Catalytic cracking. Polymer chains are broken down using a catalyst that triggers cracking reactions;
Hydrogenation. The polymer is degraded by the combined actions of heat, hydrogen and catalysts.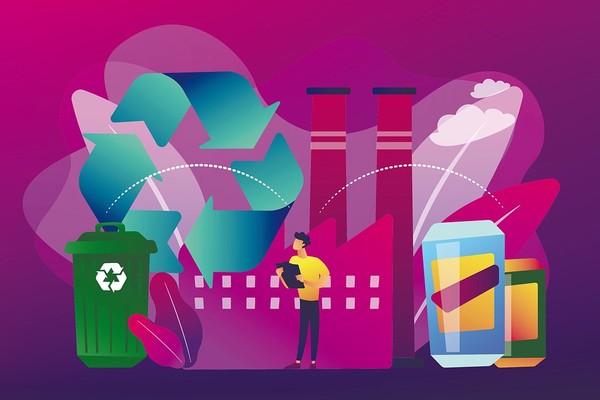 *credits Chemical Recycling Europe
Benefits of chemical recycling of plastic
The benefits of chemical recycling of plastic are:
The recycling of contaminated and/or mixed plastic waste that cannot be recovered through mechanical recycling;
Reduction in the use of fossil resources;
Lowering of CO2 emissions, because it eliminates emissions associated with incineration and the conventional production of raw materials.
Against this backdrop,
Chemical Recycling Europe
was founded in 2019 in order to promote and implement innovative solutions for the chemical recycling of plastic waste.
PlasticsEurope, objective to eliminate dispersion in the environment:
"Eliminating the dispersion of plastic in the environment, whatever it is, is indispensable. The problem can be solved if everyone contributes: citizens, the academic world, opinion leaders, institutions and manufacturers. PlasticsEurope is convinced of this, and is committed in this regard through specific programmes and initiatives supporting the environment, aimed at building long-term, sustainable development.
These include Operation Clean Sweep, to reduce the dispersion of pellets (opcleansweep.eu) and many activities promoted at global level to prevent marine litter (endplasticwaste.org). Furthermore, the European Association of Plastics Manufacturers has set itself ambitious targets, such as re-using 60% of plastic from the recycling of packaging waste by 2030, and recycling, recovering and re-using all plastic packaging by 2040. It is impossible to imagine a future without plastics: we will learn to produce and use them in a different way, but their contribution to our well-being and to that of the environment is such that we cannot do without them".
Mario Ceribelli, President of Federchimica PlasticsEurope Italy