Jul 30, 2018
Africa is on the right path to eradicate plastics
UN environment - The ongoing global movement for eliminating plastics is gaining momentum in Africa. Several countries are now taking steps to eliminate the production and distribution of single-use plastics, some adopting a total ban on the production and use of plastic bags. Kenya, Rwanda, Cameroon, South Africa, Mauritania, Morocco, Egypt, Nigeria, Tanzania, Ghana and Eritrea have taken the lead, others, like Botswana and Ethiopia, are following suit.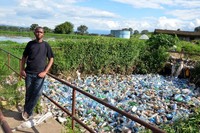 UN Environment and its partners are working closely with African governments to establish policies and create programmes that are geared towards a plastic-free continent. The campaign Beat Plastic Pollution has mobilized the continent to come together and clean up plastics in land and water ecosystems. The campaign also encourages governments to adopt the initiative and come up with regulations to curb plastic pollution.
World Environment Day, celebrated on June 5th, heightened the urgency to rid Africa of plastics. Scores of people from across the continent participated in the day's activities, which resulted in the collection of thousands of plastic bottles and tens of thousands of plastic bags.
The Clean Seas campaign, also advocated by UN Environment, has further mobilized governments to remain pro-active in the fight against plastic pollution. In June, additional African countries such as Benin, Nigeria and Cote D'Ivoire signed the pledge to eliminate plastic waste from their water ecosystems.
Partners in beating plastic
Partnerships with governments, private sector companies and the general public are key to eliminate plastic pollution.
In Kenya for example, UN Environment has partnered with Safaricom and the National Environment Management Agency to establish an end-to-end plastic waste management programme. The partnership will see the creation of a working group that brings together stakeholders, mostly manufacturers, waste collectors and plastic waste recyclers, to formulate a comprehensive solution to hard plastic waste.