European Commision - Europe is setting course for a resource-efficient and sustainable economy. The goal is a more innovative and low-emissions economy, reconciling demands for sustainable agriculture and fisheries, food security, and the sustainable use of renewable biological resources for industrial purposes, while ensuring biodiversity and environmental protection.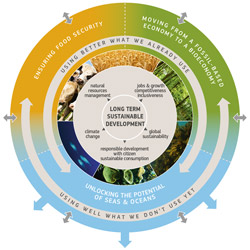 To achieve this, the European Commission has set a Bioeconomy Strategy and action plan which focuses on three key aspects:
developing new technologies and processes for the bioeconomy;
developing markets and competitiveness in bioeconomy sectors;
pushing policymakers and stakeholders to work more closely together.
Moreover the Commission works on ensuring a coherent approach to the bioeconomy through different programmes and instruments including the Common Agricultural Policy, the Common Fisheries Policy, Horizon 2020, European environmental initiatives, the Blue Growth initiative for the marine sector and the European Innovation Partnership on Sustainable Agriculture.
How does the bioeconomy contribute to the Commission's political agenda
In his Agenda for Jobs, Growth, Fairness and Democratic Change, President Juncker identified 10 key priorities for the European Commission. The bioeconomy is central to three of them:
A New Boost for Jobs, Growth and Investment
The innovative bioeconomy is an important source of new jobs – especially at local and regional level, and in rural and coastal areas – and there are big opportunities for the growth of new markets, for example in bio-fuels, food and bio-based products.
A Resilient Energy Union with a Forward-Looking Climate Change Policy
Europe needs to diversify its sources of energy and can support breakthroughs in low-carbon technologies with coordinated research. Replacing fossil raw materials with biological resources is an indispensable component of a forward-looking climate change policy.
A Deeper and Fairer Internal Market with a Strengthened Industrial Base
Innovative bio-based and food industries will contribute in raising the share of industry in GDP from 16% to 20%.and to creating a circular, resource-efficient economy. The food and drink industry is already the largest manufacturing sector in the EU.
In addition, marine issues and food security are two aspects of the bioeconomy where Europe can and should lead the global agenda as part of President Juncker's strategy to make the EU a stronger global actor.