Aug 1, 2018
Ecomondo and Key Energy will tackle North African Area as a priority issue
Recycling Portal - Two leading trade shows for green and circular economy and renewable energies in the Euro Mediterranean area will discuss the risks facing MED forest vegetation and sea as well as new technologies and solutions.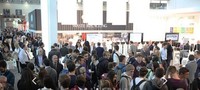 Circular economy and the development of renewable energies are two of the great changes under way in the green economy universe. Both will be featured in key showcases at Ecomondo and Key Energy, two trade shows organized by the Italian Exhibition Group (IEG) at Rimini Expo Centre (Italy) from 6th to 9th November. At the 22nd edition of Ecomondo, the core focus will be on the circular economy, while the 12th edition of Key Energy confirms its role as a business catalyser and driving force for all the increasingly strategic sectors of renewable energies and energy efficiency.
The events, held simultaneously, will occupy 129,000 square metres of exhibit space ready to host over 1,300 companies, with a participation that last year rose to 116,000 attendees and over 90,000 qualified buyers. Further to the expo proposal, there will also be more than 200 events, all thanks to the support of very high profile scientific committees, chaired by Professor Fabio Fava (Ecomondo) and engineer Gianni Silvestrini (Key Energy), the two top experts in their respective disciplines.
In advance of the showcase, Professor Fabio Fava revealed an overview of the North African area priorities and needs (available at: link) to be discussed at Ecomondo 2018: The effects of environmental changes in the Mediterranean area on the local fishery, aquaculture and aquatic biodiversity will be the main subjects of the conference Marine Bioresources in a Changing Mediterranean Sea. The Mediterranean area needs a more sustainable exploitation of fish stocks and aquaculture systems. The conference Sustainable Fishery and Aquaculture: New Strategies and Technologies will be focused on new technologies improving the sustainability. Both events are scheduled on 8 November 2018.