Technological Innovations 2017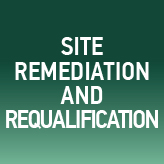 ---
DECOMAR SPA
LIMPIDH2O

The first and exclusive ecodredging worldwide


---
EUROBENT SP.Z O.O.
TILTEX

TILTEX is a needle punched composite consisting of concrete-sand mix, embedded and fixed between two layers of geo-textile and supported with an additional layer of geomembrane. TILTEX makes way for direct application of a thin, regular protective layer of concrete which may be used in..


---
GOLDER ASSOCIATES SRL
MIXIT

MixIT is a system for enriching re injected water with gases and additives, ensuring mixing of liquids and simultaneous gas over-saturation all in a modular, compact and PLC programmable equipment.


---
ODS INTERNATIONAL SA
DYNASKIM®

DYNASKIM® is a simple, fast and effective skimming solution for the recovery of a hydrocarbon free phase floating on an aquifer. DYNASKIM® is made of a pumping unit, skimmers (until 40) and a storage unit. DYNASKIM® is modular and ready to use and allows groundwater follow-up up to 2.5m.


---