Mar 29, 2023
UN Water Conference 2023: the new Water Action Agenda is a good start. But not enough to avert the global crisis.
The world has a new mandate on water: an Action Agenda. It's a blueprint for actions to be taken as soon as possible to reduce the risk of a global water crisis.
On March 24, about 10,000 delegates agreed on a new agenda on the final day of the United Nations Conference on Water 2023 at the United Nations Headquarters in New York. It aims to ensure access to water and sanitation for all, reduce the risks of conflict related to this primary commodity, foster cooperation, and reduce water-related climate change risks.
"The commitments made at this conference will propel humanity toward a future of water security that every person on the planet needs," said UN Secretary-General António Guterres during the closing ceremony attended by the author.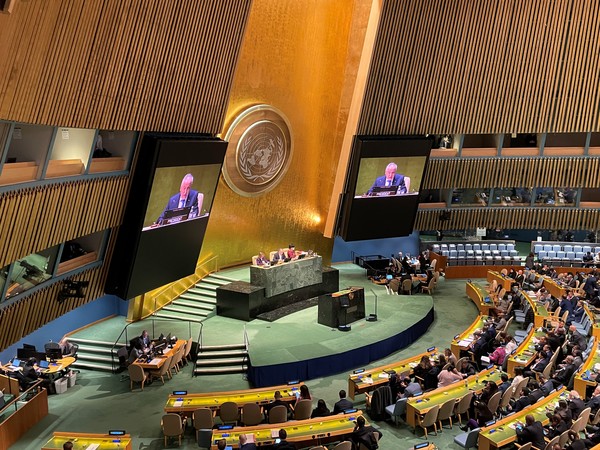 Co-hosted by the Kingdom of the Netherlands and the Republic of Tajikistan, the conference brought together world leaders, civil society, entrepreneurs, youth, scientists, and academics around a common goal: urgently addressing the water crisis and getting the world back on track to achieve Sustainable Development Goal 6 – Clean Water and Sanitation.
The outcome, however, disappointed quite a few observers. A weighty binding treaty like the Paris Agreement was certainly not expected, given that no formal negotiations were held but only preparatory work. Still, the list of 709 commitments and actions to follow seems hardly more than a collectivization of ideas and projects to be replicated. A very useful idea, certainly, but with poor political mandate and ineffective in outlining a clear trajectory. It fails to define, for example, key issues such as the role of public water, the weight of the private sector, strengthening economic mechanisms to support resilience, and strengthening water and sanitation facilities.
Dutch Special Envoy for Water to the United Nations Henk Ovink said that while the Agenda is not enough to solve problems arising from "fragmented water governance and scarce financial resources around the world, the UN Water Conference is the beginning of a global ripple effect." Charles Iceland, global director for water at the World Resources Institute, told The Guardian that only about a third of these announcements would substantially improve the water crisis and the vast majority have no real economic commitments attached.

Commitments made
709 commitments is nonetheless nothing, and there are some important proposals in the list. A group of countries including Germany, Switzerland and France have pledged financial support for the creation of a U.N. Special Envoy on Water, a stronger role than the Right to Water and Sanitation Rapporteur. A position currently held by Pedro Arrojo-Agudo, who is tasked with "informing" the U.N. on water rights issues. The new charge will see the creation of a super-diplomat to deal with the most complex water issues.
FAO has established the organization of a global multilateral dialogue on water tenure to address water allocation in scenarios of diminishing freshwater resources due to climate change.
The World Meteorological Organization will work on an initiative to ensure that every person on Earth is protected by early warning systems within five years.
There was no shortage of pledges from private individuals: Bayer, for example, pledged to reduce water in rice production by 25 percent by 2030 by converting rice growing methods; or IBM, which will use its technology accelerator to create water start-ups.
Economic funding is also not insignificant. Csaba Kőrösi, president of the UN General Assembly, reported that commitments made during the 2023 UN Water Conference amount to more than $300 billion. The U.S. alone announced a commitment of up to $49 billion in investments to support climate-resilient water and sanitation infrastructure and services at home and in the most vulnerable countries (new and existing funds). Japan has announced that it will proactively contribute to solving water-related social problems faced by the Asia-Pacific region by developing "quality infrastructure," providing financial assistance worth about 500 billion yen ($3.65 billion) over the next five years. Several African heads of state have been willing to do their part by defining commitments of state or presidential funds. Such as Mozambique, which has set a goal of moving $9.5 billion in investments for SDG 6. Europe has not only made it a matter of cooperation but has defined aid for member states of 20 million euros to accelerate the development of wastewater surveillance.
READ ALSO: A new EU industrial plan for the net-zero age
Italy at the Water Conference
Attending for Italy at the work of the Water Conference 2023 was the Minister of the Environment and Energy Security, Gilberto Pichetto Fratin, who had a series of bilateral meetings mainly related to international cooperation issues. The minister recalled the intense international cooperation activities carried out by MASE (but also by AICS, the Italian Agency for Development Cooperation), pointing out that in 2022 alone Italy funded cooperation initiatives with 69 million euros with more than fifty bilateral projects in Africa, Latin America, and Asia.
Still no new resources, however. During the meeting with Csaba Kőrösi, Fratin only reiterated the allocation of 840 million euros a year until 2026 of climate finance already restated at COP27 in Egypt, stressing the importance of projects to combat desertification, in Burkina Faso, Ghana, and Niger, especially with a view to curbing migration. The minister at the press conference echoed what he had already stated during his speech in the General Assembly, namely "that the commitments made by countries are aimed at preventing entire populations from being forced to move in search of water and acceptable living conditions."
Other bilaterals included meetings with Tunisian Minister of Agriculture, Water and Fisheries Abdelmonaem Belaati to finalize a memorandum on sustainable development; a new understanding with the Democratic Republic of Congo to "combat climate change" and "access to renewable energy in remote areas of the country"; the technical agreement of understanding with Chile's Environment Minister, Maria Heloisa Rojas as well as the search for shores in the Caribbean with memoranda of understanding with Dominica, Guyana, Saint Vincent and the Grenadines, Suriname and Haiti. On the other hand, the dossier for Expo2030 in Rome will soon begin to arrive on the desks of foreign ministries around the world. Meanwhile, however, the situation for water management in the Italian country remains critical.
Will the extra funds be enough to remedy the serious water vulnerability?.

An article written by Emanuele Bompan